alike03's Subscription Info on Steam
[NEW] Search the Subscription Services (early alpha)
Have you ever had the situation where you bought a game, only to later find out that it's already on a subscription package that you're subscribed to? It happened to me.
So I thought, "What if I could see that information directly on Steam?"
This addon checks the Game through the database I have created and displays if the game is currently on Xbox Game Pass PC & Console, on Ubisoft+, on EA Play or on EA Play Pro.
Subscription Info was used 23,830,176 times and made a request for 61,769,796 games.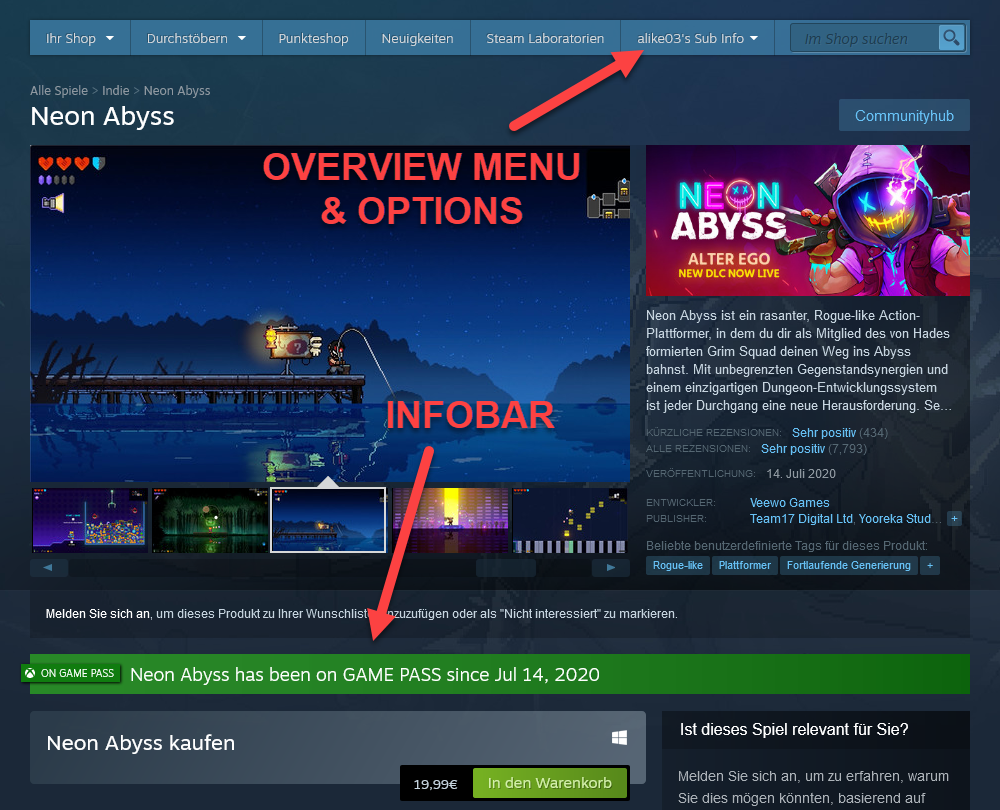 And also check this game out. It's pretty fun.
Changelog
Version 1.2.3.0 (09 Jul 2023)
Added a General Subscription Info Observer for the entire Steam Website (for pages like Sale, Categories, Genres, etc.)
Optimized Hover effect text on upcoming changes
Version 1.2.2.3 (20 Dec 2021)
Changed (PC & XBOX) Game Pass name according to the Rebranding
Added direct XBOX App button to PC Game Pass on game details page (next to affiliate button)
Improved appended element sanitation
Version 1.2.2.0 (26 Oct 2021)
Fixed icon hovering on upcoming changes not showing platform name
Added platform external and affiliate links to game pages
Fixed a bug where some platforms do not display if some are disabled
Version 1.2.1.0 (01 May 2021)
Added a new icon type for tight spaces (e.g. Search Page)
Improved icon placement to avoid wrong layouts
Adapted to Steam layout change
Moved Subscription Info Menu Button to a new location
Version 1.2.0.0 (06 Apr 2021)
Replaced every innerHTML (security change)
Improved load time for the Subscription Info Menu
Compressed every game poster to proper size, to save data
Added option to customize the age of the changes for subscriptions
Added option to change toggletype for the Subscriptions Menu
Added EA Play Pro Subscriptions
Version 1.1.1.0 (18 Nov 2020)
Added Options screen
Added Option to disable Subscriptions
Fixed on some languages the Search bar not having enough space
Version 1.1.0.0 (08 Nov 2020)
Reworked the whole Database to make it compatible with additional Subscription platforms
Added Xbox Game Pass Console Edition Subscriptions
Added Ubisoft+ Subscriptions
Prepared EA Plus Subscriptions
Repositioned every Info Badge to make it compatible with multiple ones
Renamed the Plugin and created a new logo because of these enhancements
Version 1.0.3.0 (17 Oct 2020)
Reformatted wording
Added Xbox Game Pass Button, which grants access to informations like

Games that joined, left, will soon join and will soon leave
Informations about this addon
And other soon tabs to be added
Version 1.0.2.0 (09 Oct 2020)
Added status onto Start screen
Added status onto Sale screen
Added status into Wishlist
Added status into Search results
Version 1.0.1.0 (03 Oct 2020)
Added coming soon information if available
Added leaving soon information if available
Added info about games that left Xbox Game Pass
Color coded every bar differently to make visual identification easier
Added more date information like when it will be in the program or when it will leave it if available
Added report function for inaccurate data
Contributors: ujzhtg - €3; lofbergio - €3; ZhenboLi - €9; Brain M. - €4.50; Jon - €3; Jean-Alain F. - €5; Zhenbo - €3; Maff G. - €3; remdy - €6; superdaveghs - €6; Sam - €3; Edouard L. - €3; aniforprez - €6; Daniel H. - €2.50; kuhn - €3; Érico C. - €2; Alejandro Xavier V. - €9; Micheal T. - €9; johnnycbadde - €3; Dwight H. - $6; Bryce C. - €1.50;